Imagine coming home to a box of freshly prepared delicious pizza waiting for you to dwell in the refreshing state of mind. Pizza Hut has been doing this ever since it started making its first pizza. Not just pizza, you are offered with a wide range of menu coming off as a result of our chefs toying around with different concepts that covers Italian menu with a dash of American essence sprinkled over it. Experience the finest pizzas near you like the outlet at 553 El Camino Real. One thing that's quite popular other than the unparalleled pizza here is our age old tradition of gifting customers with some exciting Coupon Codes and meals at 50% discounts.
Feeling tiresome, someone got on your nerves at work or basically spending your lazy weekends indoors? That's totally relatable and that's why we made our carry outs super reliable and insanely quick to deliver a much needed break to you with your special pizza served hot and crunchy.
Dig deeper and you are sure to see there's pasta and even desserts on the menu waiting just for you to take away. Go wild and customize your own pizza with toppings of your choice and wait for the chef's to use their magical wand to create the spell bounding pizza that still remains to be the people's favorite. Something that never change! You got the Overloaded meal up for an unbelievable offer. Top that with a soft drink and your perfect weekend is here without spending a fortune for it. Try out the popular potato wedges or the jalapeno poppers or pepperoni lovers pizza, go wild with the appetite since you got offer tagged on literally everything you pick.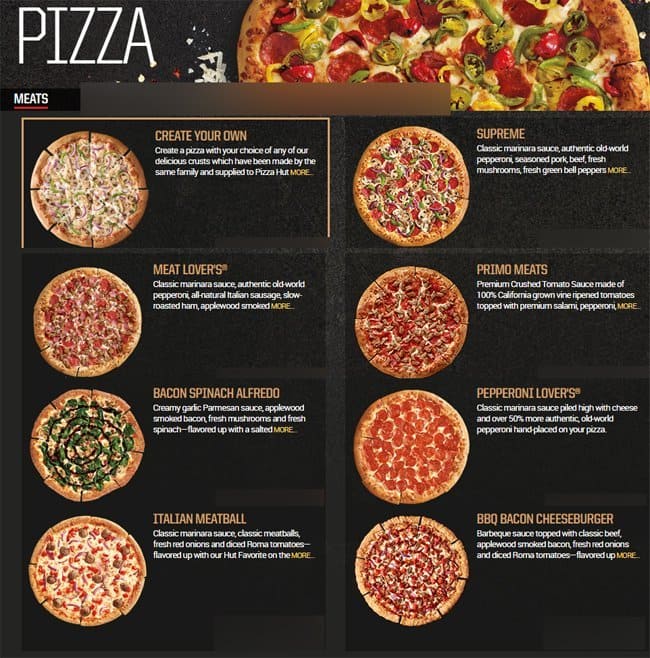 Top that deal with our exclusive coupon codes at Kooberi to make your experience even more delicious. Unravel tonnes of offers at Kooberi to save on your appetite and wait for deals to come to you. Because we strive for what matters to you! Place your order soon as you have plenty of deals that tend to run out real quick because of the insane response from Pizza Hut lovers. We can't blame them. I mean who in their complete sense would turn down an eye grabbing deal to avail.

Download the app now to stay updated with the offers unraveling around you.
553 El Camino Real
SAN FRANCISCO, California, 94080
6505834500

728 Geary Street
SAN FRANCISCO, California, 94109
4159284300
3349 Mission Street
SAN FRANCISCO, California, 94110
4156410400